Taormina is a ridiculously gorgeous town. The town itself is pedestrianized and filled with cute backstreets and lovely architecture. It is full of great restaurants, cafes and fantastic shops. It is everything you want Italy to be and more.
Stay at Hotel Villa Angela
Most of the accommodation in Taormina is outside of the pedestrianized town. Hotel Villa Angela is no exception – it is located up the hill from Taormina. It is a gorgeous little hotel with the most amazing views. Every room has a stunning view. The hotel makes the most of its location with a lovely terrace near reception where you can have a sundowner and a lovely pool. The staff are lovely – very friendly and helpful. They even organized my day trip to Mt Etna.
Italy in general isn't fabulous on the hotel front. They are usually quite expensive and the rooms tired – and often with kind of odd bathrooms that feature something halfway between a shower and a bath but not really either. Thank goodness Hotel Villa Angela is nothing like this. The rooms aren't massive but they are a good size and beautifully decorated. And each has a lovely balcony.
The hotel has a shuttle bus which goes down to the city gates once an hour and it also does a regular pick up. This was fantastically convenient. You do need to book it during peak times though.
And a final fun fact – one of the owners of Hotel Villa Angela is lead singer of the Simple Minds Jim Kerr! Apparently he does visit on occasion so watch out for him when you stay!
Go shopping
This is definitely the place to go shopping in Sicily. It has a fantastic mix of classic Italian names you know like Furla and Coccinelle and super cute local stores filled with handmade shoes and handbags. The main street is really the best place to go – I didn't find as many good stores in the back streets. Handbags and purses are the things to buy here. My favourite was Serapian where I got a stunning matching handbag and purse. The upside of visiting Taormina in the heat of August was that there were quite a few sales on.
There are also many places to stock up on tasty Sicilian food products such as olive oil and balsamic vinegar.
Head to Mt Etna
Mt Etna is stunning. If you are staying at Hotel Villa Angela you will have a view of it from your room and be able to check the weather! I originally planned to climb Mt Etna – however the August weather put me off. Having said that I had of course forgotten that you start the climb quite a bit above sea level where it was much cooler and this would have been fine. Indeed I saw many people climbing from the cable car. However it looked very steep and the scenery quite same same so not sure how interesting a trek it would have been.
Anyway I had the hotel organize a day trip for me. The bus took us up to the base of Mt Etna with a stop for Sicilian food products on the way. Once there you take a cable car and then a small bus up to the summit. From here you can wander the summit on your own.
It is quite stunning. The summit itself is an unusual and very photogenic landscape. There are also some fantastic views over Sicily. It is very light physically – just wear fairly sensible shoes. After checking out the summit you then head back down the same way. I was back at the main bus station in Taormina by mid afternoon.
Dinner at Al Saraceno
If you are after an amazing view this is the place! And if you are staying at Hotel Villa Angela it is a 5 minute walk! I would recommend making a reservation – and asking for a table on the terrace so you can take advantage of the view. The food is fabulous – classically Italian. The key thing is it has a fantastic atmosphere and is a great way to really appreciate being in Taormina.
Early evening stroll through the old town

The walled city of Taormina
Like most towns in Italy the loveliest time of day is early evening in Taormina. The light is soft and warm and it is perfect for photos. This is also the time for promenading – I love how Italians stroll with attitude before heading out for dinner. The best thing to do is to get a seat at a café/bar on the main street and a glass of wine and people watch. I am always so impressed by how well dressed every Italian is – from the smallest to the oldest.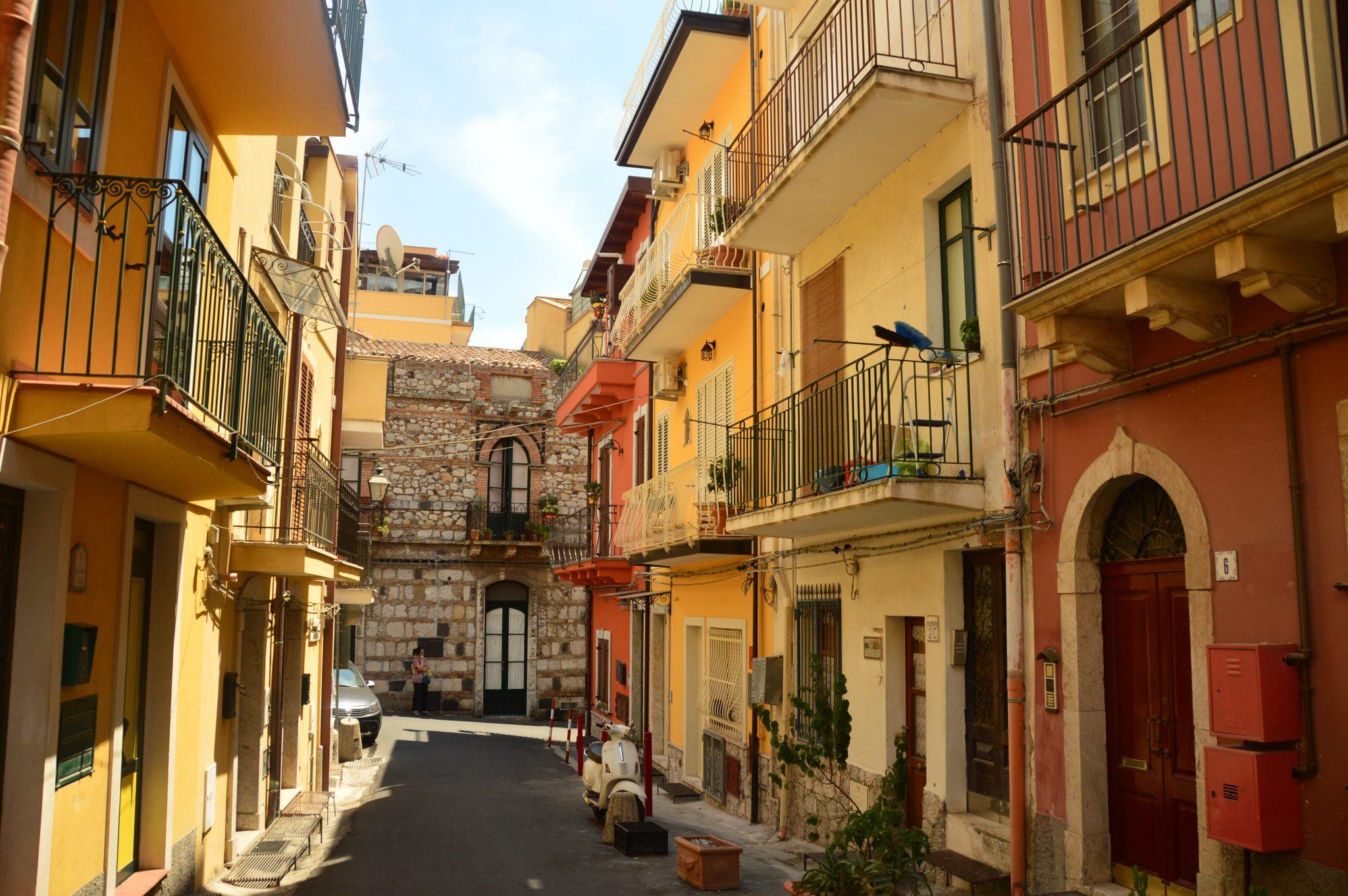 Heading to Italy? Click here to read all my posts on Italy. 
Heading to Sicily? Click here to read more posts on Sicily.