This is a truly lovely town and there is so much going on! Look carefully when you hit the main street – there are more arcades for shopping than there are in Melbourne!
Stay at Links House

My room at Links House

Breakfast at Links Hotel

You must stay at Links House – this is one of my favourite places I've stayed in a long time. The hotel is boutique adventurer heaven – high thread count and loads of character! The rooms are lovely but the best thing is the shared spaces and fabulous service. There is a lovely outside courtyard/winery that begs for wine to be drunk. There are then two sitting rooms in the front of the house where port is suggested. The manager is an absolute delight and the night manager was the same. So genuinely friendly and helpful. I can't say enough good things about this place! Oh and there is also a great dvd selection and a fabulous breakfast.

The garden

Front window at Links House

The garden

Dinner at the Bowral Hotel

Veuve at the Bowral Hotel
Links recommended the Bowral Hotel for dinner. We did have a lovely meal – a delicious lamb rump with polenta and spinach for me – but the pub was dead. It was easter Sunday so I guess it was only going to go one way or the other! There is a nice outdoor seating area that is also smoking friendly that is pretty much on the Bowral main street so we enjoyed a bottle of Veuve sitting on the wonderfully named Bong Bong Road!
Have a coffee at Elephant Boy.On one of your trips into town make sure you get a coffee at Elephant Boy. This little café is fantastic. The whole place is decked out like a library or bookshop and also has lots of you guessed it elephants all over the place. And then it has this sort of Indian feel to it as well – and some amazing looking cakes. And most importantly fab coffee!

Elephant Boy Cakes

Hit the wineries

Centennial Winery
So the Southern Highlands is quite a big area for wine. First up after passing Canberra is Lark Hill Winery – it is very well signed from the Hume highway. They have a fabulous Rose that is heavy on the shiraz and the restaurant looked lovely (I didn't think to book and they were full up when we got there). Much closer to Bowral we headed to the lovely Artemis where I picked up some lovely chardonnay.
However, the highlight was Centennial. It does appear to be the main winery in the area. There is a large cellar door area where I discovered their sparkling shiraz which was fantastic. We then went on to have a wonderful lunch in their restaurant. Everything we ate was lovely but the highlight was the fig, walnut and blue cheese salad. The cauliflower gratin was pretty sensational as well. All washed down with some pinot noir..
We did a brief stop into the Artemis winery and picked up some pinot noir. It is worth visit.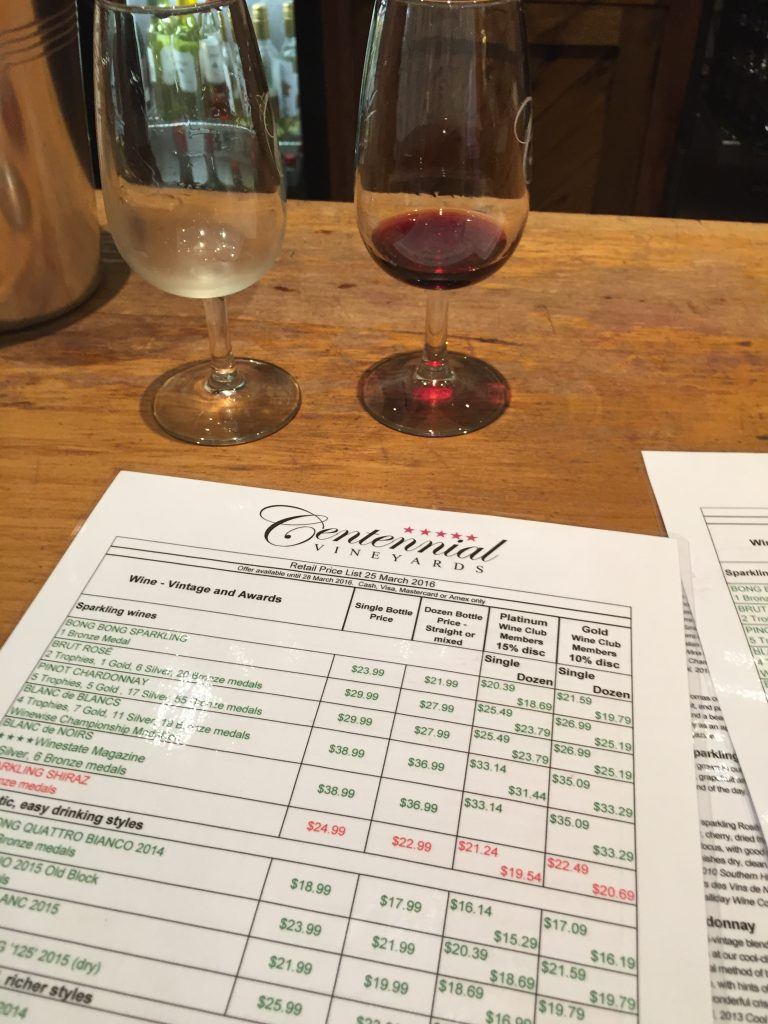 Go Bra and Antiques Shopping

Shopping in Bowral
It's all happening in Bowral. And some of the purchases are not as you might expect. There is a great Bendon outlet on the main street – so a bit of bra shopping in Bowral! There a couple of fantastic classic book shops and loads of lovely shops selling candles etc. The thing that Bowral is really known for is antiques and they have loads.
There is a fantastic antique warren called Dirty Jane's just off the main street which is like entering another world. I'm not that into antiques but I loved exploring this place. Every nook and cranny is filled and it appears every stall holder is also a stylist in their spare time as they all look fabulous! My favourite was Suzie Anderson Home – visiting her "stall" (it is much more than that) is like a mini trip to Southern France. Her taste is immaculate.
---
Also published on Medium.