I had wanted to go to Cappadocia for years. The key driver for me was the amazing photos I had seen of the Hot Air balloons against the fairy chimneys. I'm delighted to say the trip not only met but exceeded my expectations!
Landing in Kayseri airport you could be anywhere. However, once you enter the national park it is like you have fallen into a fairytale. The lunar landscape and fairy chimneys create a landscape unlike any other that I've ever seen. In the late afternoon sunlit it positively glowed.
After a bit of research I had decided to stay in Uchisar. Goreme sounded too backpackery and Urgup too small. I had also decided to stay 4 nights – arriving late afternoon day 1 and then leaving late morning day 5. This actually worked perfectly with what I wanted to do. However if you are not so into the walks/trekking and more about the hot air balloon you don't need as many nights as I had. But you need to give yourself a couple of mornings at least for the hot air balloon. Mine was cancelled two mornings in a row due to weather.  On to the Best 8 things to do in no particular order:
Stay in a Cave Hotel
I don't really see the point in coming to Cappadocia unless you stay in a cave hotel. It is such a unique experience. Most of them are obviously more like normal hotel rooms inside but you're staying in a cave! So I stayed at the Argos in Cappadocia cave hotel which I loved! What a stunning hotel! Uchisar is at the top of a hill and Argos is right near the top over several kind of "levels". As you can see from the photos it completely doesn't look like a hotel – it does look like it has been carved into the earth. It is quite a big hotel but it sort of meanders around so it feels very boutiquey (not sure that's a word but I think I'm going to make it one!). My room was lovely – beautifully styled and quite large. A big bathroom with a massive walk in shower and lovely toiletries. The lighting in the room was particularly glowing and flattering!
I/we ended up eating at the hotel restaurant 3 of the 4 nights I stayed. The food was very nice at Seki but it was pretty pricey for the area. The service was fantastic. Everyone at the hotel is so friendly and any request was quickly resolved. They did put on an excellent breakfast which I would highly recommend. And it is a stunning view. Apparently if you get up early enough you can watch all the balloons from the terrace but the only time I did that I was in one!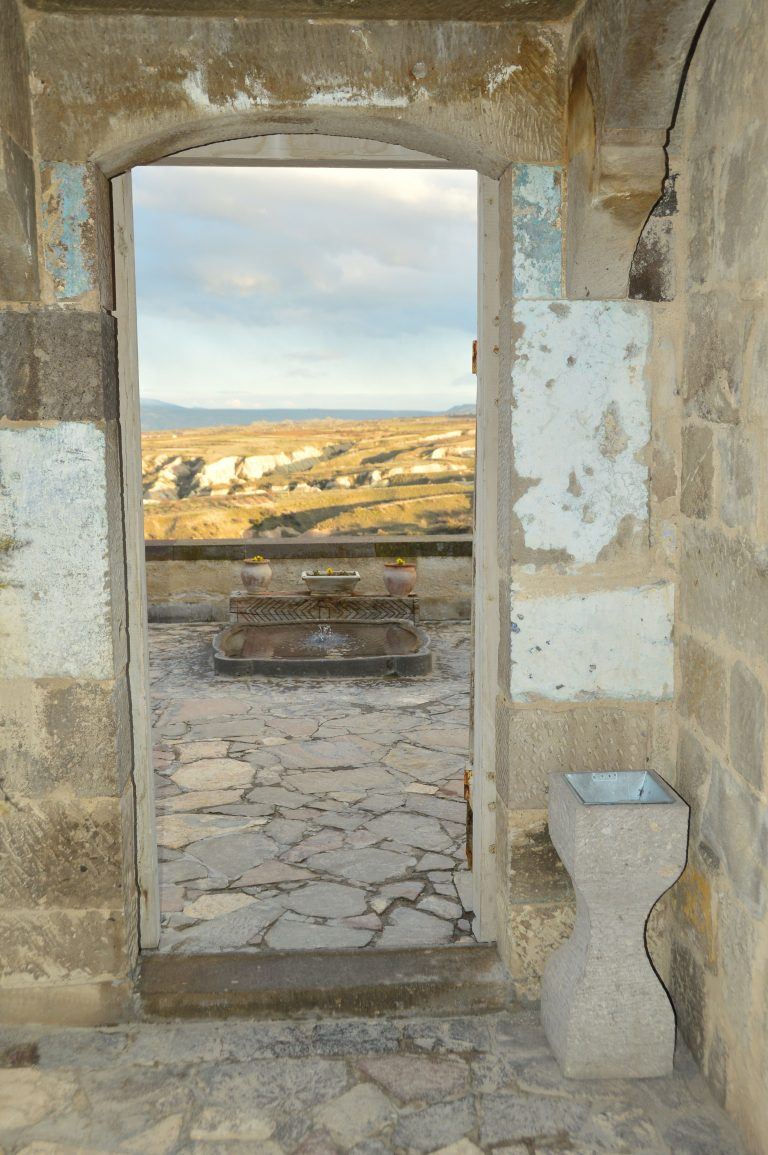 I did really like the Seki bar. This was a lovely rectangular shaped room with a fire that was a lovely spot to have a glass of wine and review the day. I went in mid March and it was quite cold – I guess I never expected Turkey to be cold but you do need layers – and thus the fire!!
The view from the top of Uchisar Castle
So the castle itself is not particularly exciting. You do have to pay to enter but it's a small amount. You wander through the cave/castle and then head up! There are lovely views along the way but it's all about the top and the 360 degree view of Cappadocia. I'm not an early morning person without duress so I can't tell you about the sunrise but I did see the sunset and it was lovely. The castle itself is also very photogenic. I would advise taking your pics of the castle from the bottom just before the entry point and after the markets. That is where I took the shot attached to this blog.
Pigeon Valley walk
This was definitely the easiest of the walks that I did. It is a lovely walk from Uchisar to Goreme. We got the hotel to direct us to the start of the walk – that's the picture you see of the sticks with the pigeons on the top. Essentially you walk down the hill that is Uchisar and as you get past the town the entry is on your left. You then follow the stunning path to Goreme. We didn't need a guide for this one. This was some of the best weather we had on the trip so these are possibly my best photos (outside of the hot air ballooning of course) as I had the best light.
We did go to the Goreme Open Air Museum after this walk. To be honest it felt quite ho hum after the Pigeon Valley. And this was before we'd done the Rose, Love and Ilhara Valleys. Probably a good thing to do if you don't plan on doing any full on walking as you can see the Fairy Chimneys but you really don't need to go if you're doing walks.
The Ihlara Valley Walk
We did this walk with a guide which was a good choice. We used Middle Earth Tours who were fantastic. I found them through trip advisor, lonely planet etc in London and emailed them for prices etc. But we didn't actually book them till we got there. They were pretty flexible with availability but it was March so not peak time. Especially considering it was snowing some mornings!!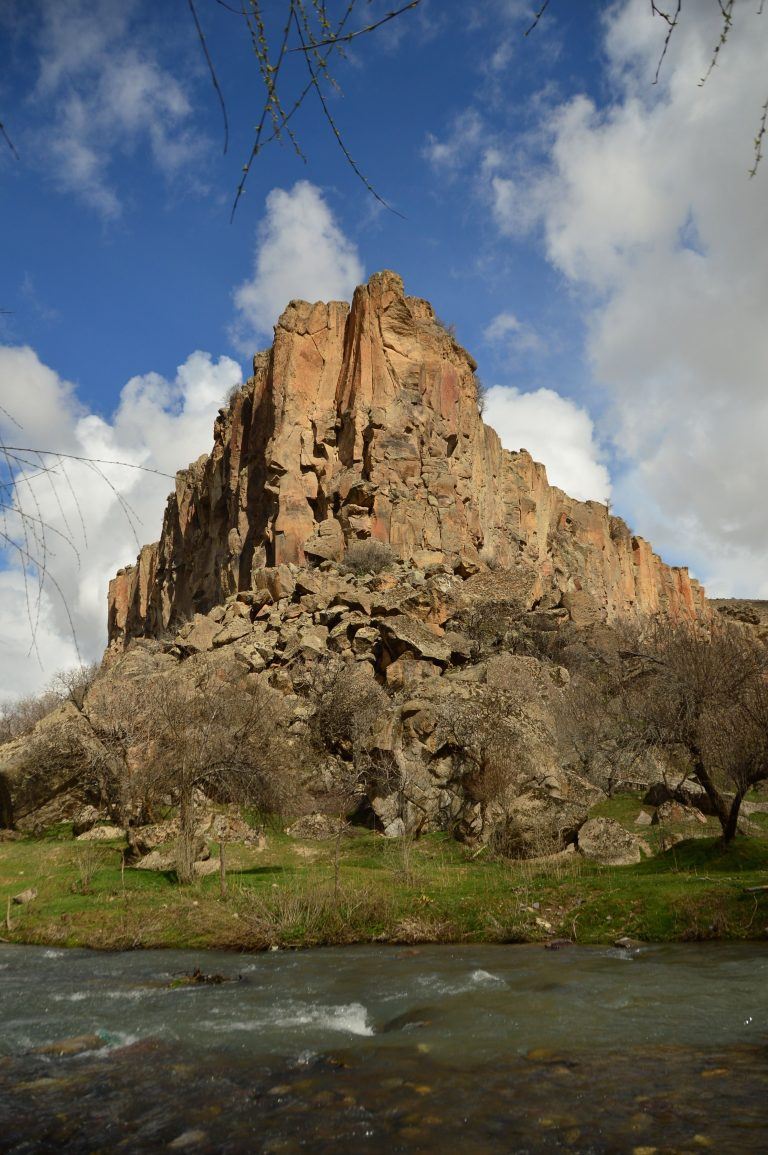 Anyway we started the day with a tour of some underground caves which were quite interesting. Particularly when we could see all the tricks that could be done with blocks of stone to hide entrances! Then off to Ihlara which was so lush and beautiful. It was a lovely big old walk – about 3-4 hours of solid walking. Wonderfully there are a few little restaurants on the river so you can plan your lunch time stop for a lovely meal by the stream. The highlight of the walk was towards the end when we got to the full fairy chimneys. There were quite a few churches with mosaics inside along the way. The guide seemed quite into these – same the next day. I got the sense that most people are into these. I personally didn't find them that interesting. I am sure this says much more about me than the history of the churches! I think I just didn't find them sufficiently photogenic. Anyway we asked for more nature and views and less churches and they were happy to oblige.
If you're an experienced/comfortable walker you could do this walk yourself. I love a trek but get nervous about directions so I was pleased we had had a guide on this one. Up to you.
You can read Part Two of The Eight most Fab Things to do in Cappadocia Here
Interested in Turkey? Why not read a couple of my other posts about Turkey:
---
Also published on Medium.